2016/11/14
Authentic JAPANESE SAMURAI SWORD WAKIZASHI in EXCELLENT KOSHIRAE SET
Antique japanese wakizashi sword in beautiful koshirae set. Unsigned, school/maker unknown.
Please pay attention to elaborate tsuba,fuchi,menuki and kashira. They symbolise the landscape of old Japan.
Blade is in overall good condition with normal signs of wear, small scratches and stained,guaranteed against hagire.
Please see the close-up pictures for details.
Sold as is
[Overview]
Hawatari(Blade length): 51.6cm/ 20.31 inches
Sori (Curvature): 1.0cm / 0.39 inches
Nagasa(Length): 72.0cm/ 28.34 inches
Weight: 953.5g
Material of Sheath: wood
[Accessories]
・None
sold on Mar.26,2015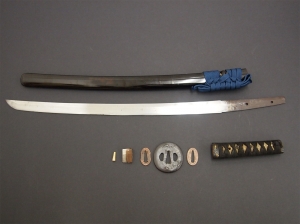 関連記事

Authentic JAPANESE SAMURAI SWORD WAKIZASHI in EXCELLENT KOSHIRAE SET